Happy Make It Monday! Is yours a DIY holiday?
Ours is usually a mix of store bought and homemade decorations, gifts, wrapping. Each year, we choose a different color theme, so we end up making a lot of the ornaments and decorations ourselves.
We've done:
This year we're doing gold, silver, white, and black. Classic. And no matter what color theme you use for your holiday season, today's Make It Monday project will give you lovely holiday ornaments that you can use over and over again. If you package them up carefully after use, these can be treasured family heirlooms passed on from one generation to the next, which is something I hope to do with ours.
Even if you DIY just one thing this holiday season, I highly recommend trying out this DIY Christmas Ornament project.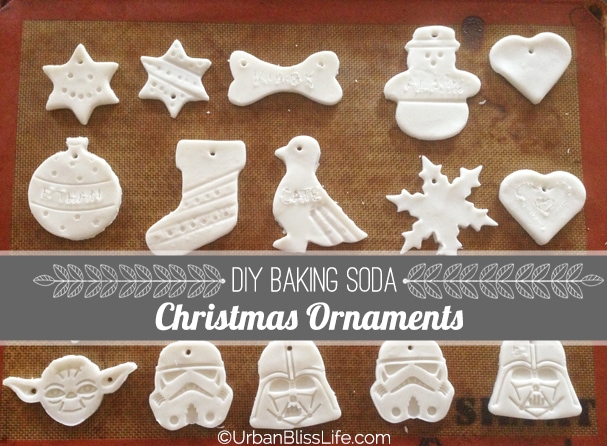 The kids and I had so much fun making these ornaments. You can probably tell, I let them pick out a few of the Star Wars cookie cutters that we used ;)
You probably already have the necessary ingredients in your pantry right now (cornstarch, baking soda, then add water), and you can use any cookie or pastry cutter you would like. This is SO EASY. Trust me: once you make these, you'll want to keep making more!
INGREDIENTS
1/2 cup cornstarch
1 cup baking soda
3/4 cup water
MAKE THE DOUGH ORNAMENTS
Combine the cornstarch, baking soda, and water in a medium or large pot over medium heat. Stir ingredients until the mixture starts to thicken, about 2-3 minutes. When the mixture begins to thicken into a smooth texture, remove from heat. Immediately form the dough into a ball and place into a glass bowl; cover with a damp cloth to allow the dough to cool slightly.
Preheat oven to 175 degrees.
After a few minutes, when dough is slightly cooled to the touch, place onto a rolling mat and knead the dough gently. Feel free to add more cornstarch if you feel the dough is too sticky to knead properly.
Roll out the dough on the rolling mat (I use this nonstick silicone Silpat Roul'Pat) or onto a cutting board lightly dusted with cornstarch (to prevent sticking) to 1/4 inch thick.
Cut out shapes using cookie cutters. Very gently, lift the shapes out and transfer them onto a prepared baking sheet covered with a Silpat or parchment paper.

Use a straw or a lollipop stick to poke a hole in the center top of each decoration.
Bake at 175 degrees for 45 minutes to 1 hour, depending on your oven. Turn the sheet 180 degrees halfway through baking time to ensure even baking. If edges start to curl up during baking, gently tap down until flat.
TIPS & IDEAS:
You can use any cookie cutter, but just make sure if it's a push-spring cutter (like these Star Wars cookie cutters used here) that it has a pretty easy release.
Try not to press too hard when making pattern impressions; it's easy to push straight through the dough.
You can add further decorations by painting the ornaments, adding glitter, ribbon – you name it!
Turn these into personalized gift tags for gifts by using monogrammed cookie cutters and stringing around gifts with festive ribbon.
Hope you enjoy this super easy, fun MAKE IT MONDAY craft!
What sort of fun shapes would you use for your DIY baking soda ornaments?