I believe there should be elements of magic and creativity in every family holiday tradition. Experiences that make kids' eyes widen with wonder and squeal excitedly from unexpected delight.
That kind of  experiential design magic can be found in one of our favorite kid-friendly spots in town: the Oregon Zoo, transformed into an illuminated winter design wonder for one month out of the year for Zoo Lights.
This week, I took my kids on their fourth trip to the Zoo Lights display at the Oregon Zoo. Here they are, doing a happy dance at the grand wreath entrance:
For the past 25 years, the Oregon Zoo has spent the last month of each year illuminated by nearly 1.3 million lights. From animals to a gingerbread house to storybook characters and fun holiday signs, the creative displays light up the zoo from end to end, creating a completely different and very special visual experience for kids compared to the zoo they see during the day.
This year, in support of the zoo's commitment to sustainability, most of the sparkle comes from LED lights (light-emitting diodes). LEDs are longer lasting and eco-friendly. According to the Oregon Zoo, this year's display adds more than 75,000 LEDs, for a total of nearly 1 million LED lights.
The Zoo Lights displays are stunning. Creative and beautiful, it always amazes me how much thought must go into the design of this annual tradition. One of my kids' favorites has always been the alligators that take over the concert lawn. One alligator display has jaws that move up and down, revealing sharp yellow teeth, while nearby a sea of lights creates a water effect where a couple of alligator displays appear to peek up through the "water." Cute and clever.
Many of the displays have lights on timers, creating interactive experiences that cause kids to stop and watch (and sometimes physically follow) the lights as they move from one side to the other, unveiling various scenes. One example is this set of three elephants, wherein the last elephant takes a drink of the "water" and "sprays" it at the end, a fun surprise that seems to especially delight the youngest Zoo Lights visitors.
One fun way to see the lights is to take the Zoo Train, which takes you and yours over and through the entire zoo. The train itself is a traditional steam engine, which my kids found fascinating.
[UPDATE DECEMBER 2013: The Zoo Lights Train is NOT running this year. For more info, visit OregonZoo.com]
The older my own kids get, the more they seem entranced by Zoo Lights. What began as a simple bright display of color to them as infants and toddlers has grown into a fascinating, intriguing experience in their eyes as they notice more and more of the little details the Oregon Zoo has thoughtfully considered in creating each light display.
I really like watching the lights, but I LOVE watching my kids' eyes light up a million times more as they take in each new scene.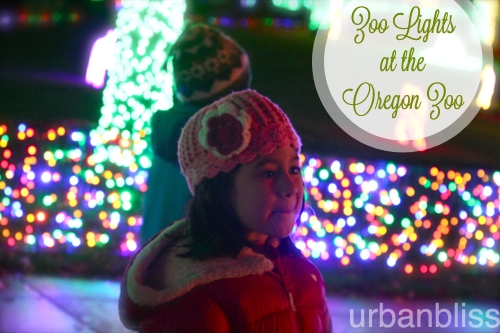 A true winter design wonder, Zoo Lights at the Oregon Zoo is such a magical holiday tradition for our family. If you haven't experienced it yet, I highly recommend it, for kids of all ages, young and old.
Zoo Lights runs through December 31st at the Oregon Zoo (closed Dec 24 & 25).
Hours: 5-8 p.m. Sunday through Thursday, 5-8:30 p.m. Friday through Saturday.
Admission: ZooLights package tickets, which include admission and a train ride, are $12.50 for adults (12-64), $11 for seniors (65 and older), $9.50 for children (3-11) and free for children 2 and under. Admission-only prices are $10 for adults, $8.50 for seniors, $7 for children and free for children 2 and under. For more info, visit www.OregonZoo.org.
Disclosure: I received complimentary family passes to Zoo Lights under no obligation to post. All photos and opinions are entirely my own. As always, I only write about experiences and products on this blog that I personally enjoy/support/endorse.
ZOO LIGHTS ARTICLES LINK UP: