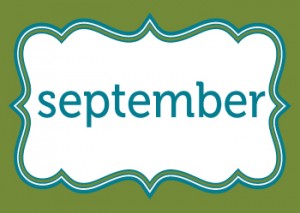 Ok, so I lied in that last post. I'm definitely taking a break from the 30-Day Shred. My son asked me last night if I was going to work out and I looked him in the eye and said "No." And I'm ok with that.
Hubby is home after a week away and life is back to normal craziness. This month is packed with work and family madness. Highlights to come include:
* UrbanBliss Boy's first day of school at the big elementary school
* Launch week for Urban Bliss Life, including a Twitter party discussing ways to live authentically to create life bliss, giveaways galore including Lisa Leonard jewelry, Cat in an Apron baby onesies, Urban Bliss holiday cards, and fun back-so-school products from Munchkin Designs.
* Makings of a MOB Conference September 22, with a Twitter party discussing building a business while raising a family on Monday September 13th.
* An appearance on our local CBS station KOIN News 6 on September 15th to talk about tips for starting a mom-owned business, and also sharing some great local mom-owned business products & services
* Design work for Angela Russell, Little Jumping Beans, Metro Parent magazine, The Power MOB, Resource Staffing Services and Power Fitness PDX.
* Launching the 2010 Holiday Bliss collection and custom wine labels
Plus, there are birthdays, anniversaries, back-to-school nights, and lots of fun get-togethers with friends and family to round out the month. I'm looking forward to it all!
And somewhere in there, I will work out. I'm just not a scheduled work out kinda gal, I suppose.