Summertime, and the livin' is easy. . .
Got that, friends? Not stressful, not overpacked schedules, but E-A-S-Y.
Summertime celebrations should be simple, fast to put together, and easy peasy, so that you can spend more time enjoying the fun instead of stuck in the kitchen prepping and cooking.
For your 4th of July, try these three super simple dessert recipes:
1. Moscato-Infused Strawberries and Cream
2. Red, White, and Blue Oreo Pops
3. Berries and Cream Mini Tartlets
They're all delicious and sure to make your next party sparkle!
Moscato-Infused Strawberries and Cream
Recently, the kind folks at Gallo Family Vineyards sent me a trio of Moscato to try for summer recipes: traditional white Moscato, Pink Moscato, and Red Moscato. The white Moscato is light, crisp, and citrusy. It's perfect for sipping on its own or enjoying with a light salad or seafood dish on a hot day. The Pink Moscato is also light-bodied but has added slight berry flavors. I would actually enjoy this with the Mini Red, White, and Blue Fruit Tartlets featured in this post (recipe below). I had never tried a Red Moscato before, and I decided to make a simple Moscato-Infused Strawberries and Cream dessert.
This is truly a no-measure recipe, and you can adjust the amount of strawberries and Moscato as you go to get the flavor balance you prefer.
Ingredients:
-Fresh Oregon Strawberries
-Red Moscato
-Fresh Homemade Whipped Cream (recipe to follow)
Directions:
1. I started out with about 2 cups of fresh Oregon strawberries, and placed them in a medium-sized shallow bowl.
Oregon strawberries are the best in the whole wide world. They are so fresh and sweet! If you have never had a fresh Oregon strawberry, you MUST try one. These were picked from a nearby farm by me and my kids.
2. Pour enough Red Moscato over the strawberries until the bottom halves of the strawberries are covered. You could cover the strawberries completely with the Red Moscato if you prefer a stronger Moscato flavor, but I wanted the strawberries to merely have a light Moscato flavor, so I only filled the bowl slightly.
3. Allow the strawberries to soak in the Moscato for about 2 hours.
4. In the meantime, make the whipped cream. Now, you can buy canned whipped cream if you really must, but fresh whipped cream is not only one of the most delicious things on earth, but it's also one of the absolute easiest things to make at home. So why settle for the premade yucky stuff?
Fresh Homemade Whipped Cream
Make sure you have a mixing stand bowl and whisk attachment that are super cold. I like to put my mixing stand bowl into the refrigerator for a few minutes before I make fresh whipped cream. Pour one cup heavy whipping cream, 1 teaspoon vanilla extract, and 2 Tablespoons of sugar (or you can use 1 Tablespoon of powdered sugar) into the ice cold bowl. Whisk in your stand mixer at medium speed until thick whipped cream has formed. This can take anywhere from 5 minutes to 10 minutes in my experience.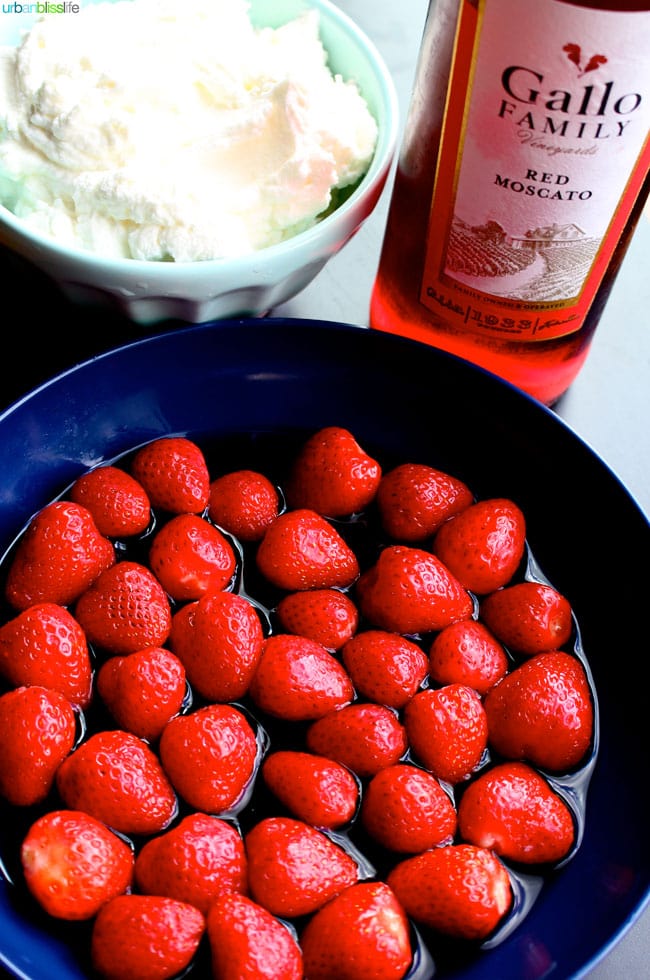 5. Serve the strawberries alongside the whipped cream.
6. (And this step is very, very important) pour the remaining Red Moscato evenly divided into chilled wine glasses for you and your guests. You can even pop a few Moscato-infused strawberries into your glass.
Cheers!
Red, White, and Blue Oreo Pops
Another quick and easy 4th of July dessert that the kids happen to love (because you shouldn't serve the Moscato-infused strawberries to kids, just in case you were thinking about it!), are these Red, White, and Blue Oreo Pops.
Ingredients:
-Package of lollipop sticks
-Package of Oreos
-Package of white chocolate chips
-Red sprinkles, blue sprinkles
Directions:
-Put one lollipop stick halfway through the white filling of each Oreo. Set aside.
-Melt white chocolate in a bowl in a microwave in 30-second increments, stirring in between, and heating until fully melted and smooth
-Holding each Oreo by the end of the popsicle stick, dip into the melted white chocolate and turn until the Oreo is fully covered.
-Have the kids sprinkle the red and blue sugar sprinkles over the white chocolate. We did a few fully covered in sprinkles, and made a few striped Oreo pops.
-Place gently onto wax paper to cool. You can place them in the refrigerator if you need them to cool quickly. After the chocolate has hardened, remove from the wax paper and plate to serve. Dig in, kids!
Berries and Cream Mini Tartlets
I love making all different kinds of mini tartlets, but if you're in a pinch for time, short on money or ingredients, these Berries and Cream Red, White and Blue Mini Tartlet do the trick!
Ingredients:
-One package of pre-made pie crust
-Fresh homemade whipped cream (see recipe above)
-Any combination of blueberries, raspberries, strawberries
Directions:
-Roll out the pie crust and, using a small round cookie cutter, cut out circles. Place cut circles over mini tartlet pan and bake according to pie crust package directions. Once baked, remove and allow to cool at room temperature for 10 minutes.
-Spoon enough whipped cream to almost fill each tartlet crust.
-Top with fresh berries.
-If you're feeling extra fancy, add a drizzle of honey or a small mint leaf to each mini tartlet.
Done! Wasn't that so easy? Now try it: delicious, isn't it? See: summertime celebration desserts CAN be yummy, fast, and easy!
What are your favorite, fast and easy Fourth of July desserts?
Thanks to Gallo Family Vineyards for sending the complementary Moscato wines for these recipes! All recipes, photos, and opinions are, as always, my own.