These free Election Day printables and party food ideas will win you Best Party of 2016 by a landslide!
It's an election year like no other here in the United States, so why should your Election Day party be anything less than extraordinary?
In this Make-It Monday post, I'm sharing some of my Election Day Party tips as well as the latest set of free printables that I designed to help your Election Day parties be the best in town!
Election Day Party Menu
So what do you serve at an Election Day Party? Patriotic party food in red, white, and blue, of course!
A lot of the same food you might make for the 4th of July would also work for your Election Night Party. Thinking seasonally, you might want to substitute cranberries for strawberries and raspberries.
Some red, white, and blue food ideas you could serve:
You could also serve classic party appetizers and some of your favorite food to feed a crowd, but give them fun political names:
Election Day Party Circle Printables
To make your election day party food even more festive, I designed these party circle printables that you can cut out and
Download these Election Day Party Circles for free today! Save it once to your desktop and then print as many as you need for your party.
You can cut these out and use them as cupcake flags, string them together to create a small banner, use them as table confetti, or use them to decorate cake pedestals, wine carafes, beer bottles, wine bottles, silverware holders, and more.
Click here to download the Election Night Party Printables.
Election Day Games
Election Day Bingo is a MUST – especially during this year's election! We're sure to expect certain buzz words and specific people to make appearances throughout the evening.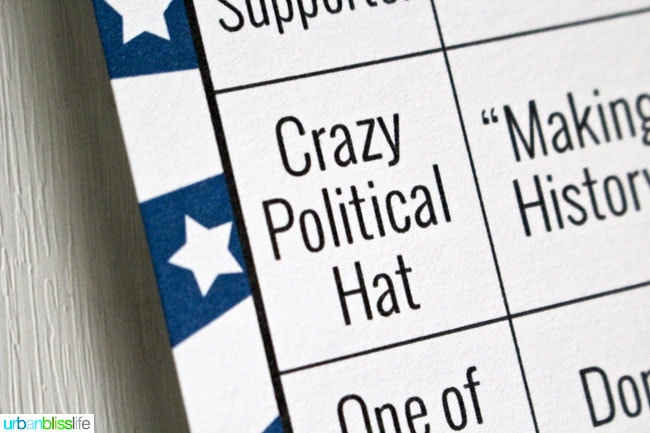 I tried to keep these election day printables as bi-partisan as possible but let's face it: no matter which candidate you favor, one candidate came out with a lot more buzzwords throughout this election cycle than the other did.
I've included the names of some regular political anchors and reporters we're most likely to see make an appearance at least once (if not all night long) on election night, as well as the Presidential and Vice Presidential candidates and their family members. You'll also be able to cross off common buzzwords that we've heard throughout the campaign, as well as typical election night sightings, such as a cutaway to someone in the crowd crying and crazy political hats or t-shirts.
Election Party Printables for Kids
We've always included our kids in our political discussions – age appropriate discussions, of course. And, now that they are 9 and 12, they are REALLY fascinated by this year's election. When they were really little, I designed an election night coloring map for the kids, but adults can use it too! Simply color in states red or blue as the national results are called on television.
Download the free Election Day Map Printable here, and print as many times as you want to make sure you have enough for all of your guests.
If you use these printables on election night, please tag @UrbanBlissLife on Twitter, Facebook, and Instagram. Please also use #UrbanBlissLife!
COPYRIGHT INFO: All Urban Bliss Life free printable designs are copyrighted and are available for personal use only. Commercial use or resale of this printable is prohibited. You are free to pin this printable and share it on your blog. Please be sure to link back to this exact post and credit Urban Bliss Life. Thank you!