Looking for a non-dairy alternative to traditional fetuccine alfredo? Try my cashew-based, dairy-free alfredo sauce.
Over the last month, I have shared my journey going through food intolerance testing and the trials and tribulations of switching from an eat-all-the-things diet to a dairy-free, low-sugar food routine.
At times, it's a piece of (dairy-free) cake. Other times, it's a royal pain in the behind.
But I am absolutely grateful that I live in a time when dairy-free options are plentiful — and delicious.
Cashews: a great dairy-free alternative
One of the things that surprised me the most about going dairy-free is learning that cashews are a popular dairy substitute. Who knew?
Apparently the smart folks at Silk knew. They just released two new Silk Cashew Milks, in unsweetened and original.
Having to also cut back on sugar, I love the Unsweetened Silk Cashewmilk option. There is no added sugar, and it's creamy and yummy.
I decided to try the Unsweetened Silk Cashewmilk in two recipes: Homemade Cashew Cheese and Spinach Tomato Dairy-Free Alfredo.
Homemade Cashew Cheese
Homemade Cashew Cheese is surprisingly super easy to make and serves as a base for the dairy free alfredo sauce. The hardest part is remembering that the cashews need to soak for at least a couple of hours before you blend all of the ingredients together. This helps soften the cashews and make them easier to blend into a rich, smooth, creamy texture.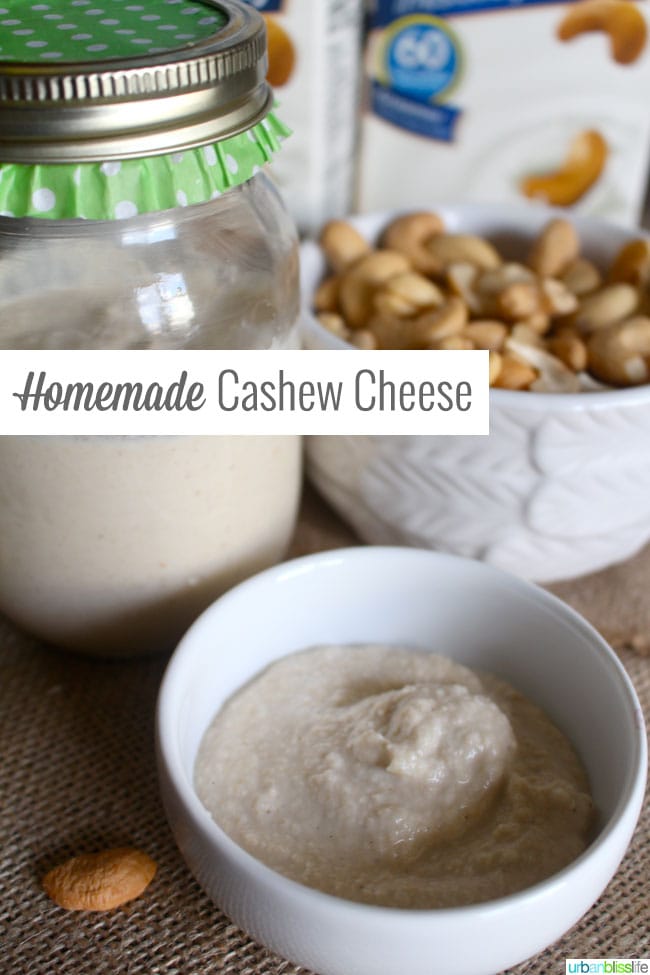 The full recipe for homemade cashew cheese is below.
I love to use cashew cheese as a dairy-free dip for crackers and vegetables, as a spread in sandwiches, and also as a base for pasta sauce.
Dairy-Free Alfredo Sauce with
Spinach
Using the cashew cheese as a base, I developed a dairy-free alfredo sauce pasta recipe that satisfies my craving for rich creamy pasta sauces.
I have been working on different dairy-free cream sauce alternatives, and really enjoyed how this one turned out. Thanks to the Silk Cashewmilk in the Cashew Cheese recipe AND in the sauce, the pasta gets a nice coating of creamy sauce similar to that of traditional cream sauce.
Dairy-Free Alfredo Sauce and Spinach Recipe
Ingredients
CASHEW CHEESE:

2

cups

cashews

raw

1/4

cup

water

1/4

cup

Silk Cashewmilk

Unsweetened

1

tablespoon

lemon juice

1/2

teaspoon

garlic powder

1

teaspoon

apple cider vinegar

1/4

teaspoon

black pepper

Dash of salt

SPINACH TOMATO DAIRY-FREE ALFREDO SAUCE

1/2

pound

pasta of your choice

1

tablespoon

olive oil

1

garlic

minced

1/4

cup

homemade cashew cheese

1/4

cup

Silk Cashewmilk

unsweetened

1

cup

spinach

sliced or shredded by hand into smaller pieces

1

cup

cherry tomatoes

diced in half

2

tablespoons

fresh

thinly sliced basil

salt and pepper
Instructions
TO MAKE THE CASHEW CHEESE:

Soak the cashews in a large bowl of water for at least two hours. Can be soaked overnight.

Drain cashews and place into a blender along with the water, Cashewmilk, lemon juice, garlic powder, apple cider vinegar, pepper and salt.

Blend until creamy. Add more Silk Cashewmilk as needed until you get the consistency you prefer.

Place in an airtight container (I use mason jars) and chill for at least one hour before enjoying.

TO MAKE THE SPINACH TOMATO DAIRY-FREE ALFREDO

Cook pasta in a pot of boiling water.

In a large saucepan over medium heat, heat olive oil.

Add garlic and saute for 1 minute.

Add 1/4 cup of your homemade cashew cheese and stir with garlic, cooking for 1-2 minutes.

Slowly add 1/4 cup Silk Cashewmilk and continue to stir.

Stir in spinach.

Add drained, cooked pasta to the saucepan, setting aside the remaining hot pasta water. Mix all ingredients well. If needed, add more cashew cheese or more Silk Cashewmilk to achieve your desired sauce consistency. You can also add a few tablespoons of the reserve hot pasta water to make the sauce creamier.

Add half of the cherry tomatoes and stir all ingredients over medium heat for 2-3 minutes.

Remove from heat, top with remaining tomatoes and basil. Salt and pepper to taste.
Notes
Can be kept in an airtight container or jar in the refrigerator for up to one week.
I love that I now have a dairy-free alternative to the cream sauce pasta dishes I have loved all my life!
This conversation is sponsored by Silk. The opinions and text are all mine.