The family-friendly 2016 Oregon Tulip Festival is in full bloom at the Wooden Shoe Tulip Farm! Read my tips, including a stop at the Woodburn Premium Outlets, and check out some of the beautiful flowers you will see!
Since the mid 1980s, the Wooden Shoe Tulip Farm in Woodburn, Oregon has dazzled locals and tourists from all over the world with its annual Oregon Tulip Festival.
While it normally opens in April, Mother Nature usually has the last word in when the annual Tulip Fest opens to the public, and this year's festivities kicked off on March 18th. The last day of the festival is May 1st, so be sure to get here soon!
From wine tasting to a large kids play area to art and photography classes, the Wooden Shoe Tulip Farm offers so much more than "just" a picturesque stroll through beautiful flower fields. Although, let's face it, the tulips are the main and most glorious draw!
Tulip Fields
You can stroll through more than 40 acres of this stunning tulip field, which features a gorgeous array of many different types and colors of tulips. On a clear day (this last day we visited was not) you can see Mount Hood. In the majority of the fields, you are prohibited from picking flowers; however, there are specific areas designated as U-Pick flower fields. Look for the signs if you want to take home a beautiful bouquet of fresh tulips!
It truly is a beautiful place to spend a morning or afternoon in the Pacific Northwest.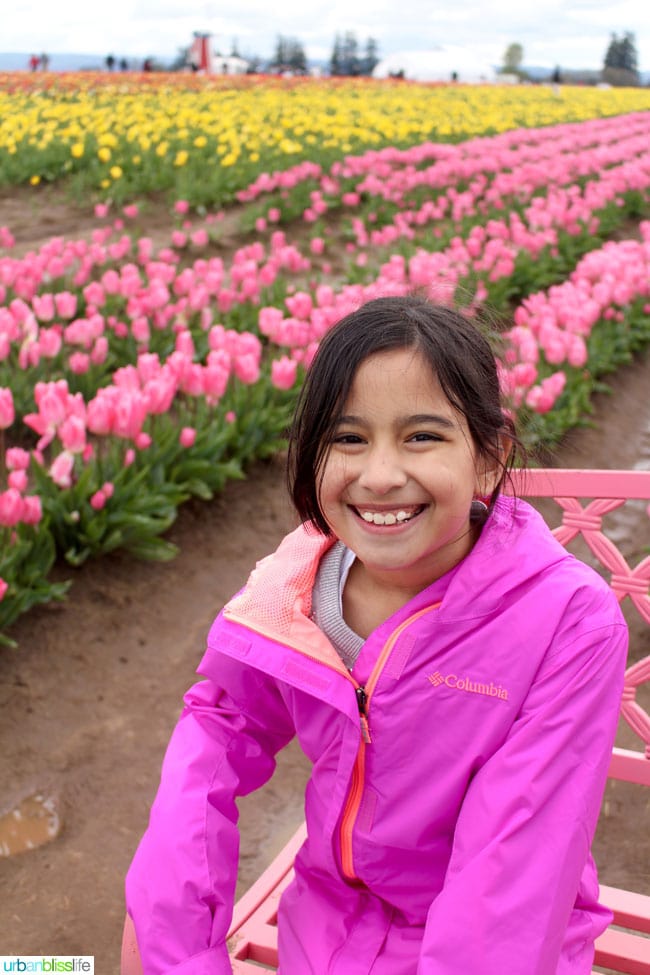 Older kids will most likely enjoy strolling through the tulip fields with you. My own kids were in awe of the many different types of tulips there, and they didn't need any of the other extras offered at the festival.
However, if you have younger kids, there is PLENTY to keep them busy!
Kid-Friendly Fun
The littlest visitors have so many opportunities for festival fun at the 2016 Tulip Fest. The farm's famous cow trains take the kids on a fun ride around the tulip fields for just $3 per person. It's a bumpy ride, due to the uneven ground around the fields, so if your little one tends to get car sick, it might not be the best bet for your child. However, if your child is able, I highly suggest the cow train. It's so much fun!
There is a large kids' play area filled with lots of fun (extra cost) activities to keep your little ones happy and busy, especially if they are between the ages of 2 and 8. Your child can ride ponies (that's Blondie, pictured above! Isn't she beautiful?), jump in a bouncy house, do water gun duck races, and much, much more.
There's also food available and plenty of seating so you can rest your feet after strolling through the tulip fields.
Wine Tasting
In true Oregon fashion, the farm produces its own wine label and visitors to the 2016 Tulip Fest can enjoy some wine tasting of their current vintages. Weather permitting, you can even opt to take a Wine Wagon Tour around the fields to sip some wine while learning about the history of the property.
Tips for the Tulip Festival
If you're headed out to Woodburn for the 2016 Tulip Fest, here are some quick tips:
Dress appropriately. The ground is uneven, and depending on the weather up to 2 weeks prior to your visit, most likely muddy, so wear appropriate footwear. That means rain boots, hiking boots, or any other shoes you don't mind getting dirty. Do NOT wear heels here. Wear jeans and a light jacket because it can get windy and cold.
Plan to spend at least an hour at the festival. This isn't a quick 30-minute drop in, head out type of event. First, you'll likely have to walk a bit of a way to the tulips, so that alone takes a few minutes. And there is SO much to do, that you won't want to feel rushed, especially if you have kids with you.
Bring your camera! This probably goes without saying, but it's a picture-perfect place, and you won't want to miss the many photo opps.
Bring cash for extra cost activities, such as the various kids' rides and games in the kids' play area, u-pick flowers, etc.
Visit www.woodenshoe.com to map out your visit before you go. This can also help involve your children in the outing and get them excited about the trip, as well as give them a clearer picture of what to expect.
Woodburn Premium Outlets
If you're headed to the 2016 Tulip Fest at Wooden Shoe Tulip Farm, I suggest stopping for some tax-free outlet shopping at the Woodburn Premium Outlets.
Whether you're traveling from California or from Washington, the outlets are right on the way to the Tulip Fest! If you traveled to the festival on I-5, you likely saw the large outlet mall just west of the I-5 southbound Woodburn exit.
My own family has ventured out to the Woodburn Premium Outlets several times, and I'm always amazed at how much it has grown - and continues to grow. There's always something new each time we visit, and I just love the open-air concept (with plenty of covered spots too!) and the wide spaces between the store rows, which helps give the kids (and adults!) some breathing room while shopping.
Our favorite stores here: the Banana Republic, GAP, Nike, Columbia Sportswear, J. Crew, and Harry & David outlet stores. In fact, on this last visit, my daughter and I each got new rain coats (she's wearing her bright pink new coat in the top photo of her above!) at the Columbia Sportswear store, which had a Buy One, Get One 50% Off sale! SUCH a deal for amazing quality raincoats!
To help keep kids happy and give parents a place to rest, there's also the tree house located in the northern section of the outlets, which my kids used to love playing in when they were younger. It's also fun to point out all of the adorable wood carvings of animals in the tree house foundation and in the wood benches surrounding the treehouse.
Family-Friendly Food
You can refuel during your shopping trip here with everything from pizza to sandwiches to Jamba Juice, but for my family, no trip to the Woodburn Premium Outlets is complete without a stop at Auntie Annie's for some cinnamon sugar pretzel bites. These are usually the sweet treats that my kids always ask for when we go here!
On this last trip, we tried a new spot for lunch: Willamette Valley Pie's The Pie Shop. It's located at the northern end of the outlet mall, across from the Disney store (yes, there's a Disney outlet store here!).
Here, you'll find much more than just pies, although they looked absolutely delicious. There's a board with the day's specials - everything from caramel apple pie to marionberry to peach - as well as soup specials. We opted for the clam chowder, which came with a ginormous slice of housemade bread, which my daughter really liked. My son and I really enjoyed the lemon scone, which had just the right balance of tart and sweet between the lemon and the sugar. My kids also love The Pie Shop's soft serve ice cream.
Visit the Tulip Fest
I do hope you get the chance to spend some time at the Wooden Shoe Tulip Farm's Tulip Fest this year! The tulips are in perfect bloom RIGHT NOW, which is why I scrambled to get this post up ASAP so you wouldn't miss it! The last day of the festival this year is May 1st.
2016 Tulip Fest
Wooden Shoe Tulip Farm
33814 S Meridian Road
Woodburn, Oregon 97071
503.634.2243
1.800.711.2006
office@woodenshoe.com
www.woodenshoe.com
Have you ever visited a tulip festival before, either this one or another one somewhere else in the world? What did you think?
Many thanks to the Wooden Shoe Tulip Farm and the Woodburn Premium Outlets for the complimentary festival admission, lunch and outlet gift cards so my family could experience both locations for this post. As always, all opinions and photos are 100% my own. We truly love shopping at the Woodburn Premium Outlets and had SO much fun at the Tulip Fest this year (and in previous years, too!).